Magic Leap 2 is the latest Augmented/Mixed Reality Headset from Magic Leap. Aimed at business XR applications, the futuristic design in a compact package that allows the Headset to be worn comfortably for extended periods of time.
With improved field of view to 70 degrees Magic Leap 2 uses inside-out tracking to spatially anchor 3D content into your real-world view. The Headset also has built in eye tracking and hand tracking for menu control, along with a unique Controller that uses haptic feedback, plus you can also operate the Headset completely contactless through speech recognition.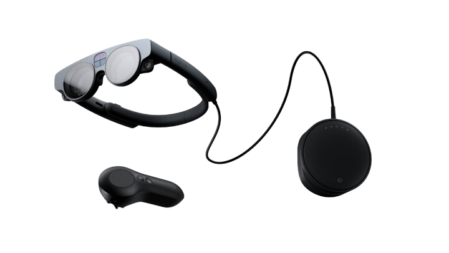 Magic Leap 2 is available in three editions:
Magic Leap 2 Base edition
Best for standalone use by professionals and developers that wish to access the most immersive augmented reality device available. The base Magic Leap 2 Headset comes with a Controller, power cables, head strap, carry case and shoulder straps for comfortably wearing the separate Compute pack.


Magic Leap 2 Developer Pro Licence (add-on)
Provides access to developer tools, sample projects, enterprise-grade features, and monthly early releases for development and test purposes. Only for internal use in the development and testing of applications. Use in commercial deployments and production environments is not permitted.
Magic Leap 2 Enterprise Licence (add-on)
Designed for environments that require flexible, large-scale IT deployments and robust enterprise features. This edition includes quarterly software releases fully manageable via enterprise UEM/MDM solutions. Use in commercial deployments and production environments is permitted. Magic Leap 2 Enterprise comes with 2 years of access to enterprise features and updates.
Contact the XR Team to discuss your requirements on 01509 274500 xr@primoit.co.uk