See what's possible by adding VIVE Enterprise to your business.

HTC brings brilliance to life through leading innovation, engineering breakthroughs, and helping to shape the future of human communications. VIVE is a first-of-its-kind virtual reality platform, built and optimized for premium VR and true-to-life interactions. Built on the SteamVR and WAVE platforms, VIVE delivers on the promise of VR with game-changing technology and best-in-class content. With our new VIVE portfolio there's something for everyone.
Transform the way you work. Everything you need to take your business into virtual reality.
Powerful learning - Research shows that VR trainees are more engaged, learn more effectively, and retain their knowledge for longer. Give multiple colleagues a simultaneous hands-on experience in a true-to-life environment, efficiently and safely, with no disruption to the workplace.
Work together - when apartWorking remotely? No problem. Build trust and foster team spirit, no matter where you are. VIVE Business brings teams together from multiple locations in an immersive 3D experience that's free from outside distractions. Collaborate and connect beyond the limits of the physical world.
Design visualization - Bring a team together over any distance to review everything from the big picture to the smallest detail. Evaluate, give feedback, and make 3D changes in real-time.


Vive Business Training - Unleash the infinite power of VR.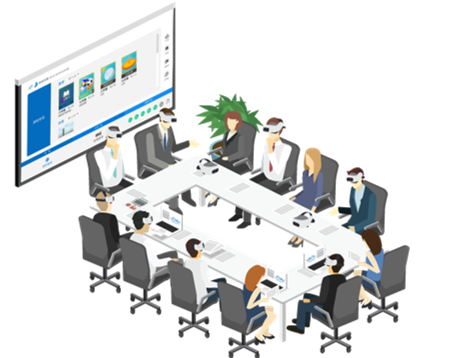 Optimize multiple-user VR training: VIVE Business Training is a control center that enhances the one-to-many teaching/training experience in VR. Design and synchronize the flow and process for multiple users (300+ VR devices) and maximize the impact and efficiency of training programs.
Monitor in real-time the connection status, power levels, and storage capacity of VR devices.
Get status notifications and warnings about malfunctioning devices.
Push content to multiple devices simultaneously. Upload, update and manage VR content from local and the cloud platform.
Simultaneously start and end training content running on multiple devices with just one click.
Monitor content running in the trainees' headsets in real-time and in high-resolution.
Customize the flow and speed of video playback and 3D model control with content integration developer tools.
Welcome to a new era of business networking, creativity, and productivity, all across a broad range of devices including VR headsets, PCs, laptops, tablets, and smartphones.
VIVE LBE Mode
VIVE Focus 3 is perfect for LBEs (Location Based Entertainment) , delivering an incredible experience which just keeps getting better as they continue to roll out software updates and develop new features. VIVE Focus 3 supports Wi-Fi 6E, perfect for fast-paced action where low latency is essential. A dedicated LBE mode provides flexibility at the touch of a button, supporting multiple players in a game space of up to 1,000m2 – that's the size of four tennis courts.
And the playable area doesn't even have to be a perfect square or rectangle, our software allows for complicated room shapes like polygons and even L-shaped spaces. Using arUco codes it's easy to integrate physical objects like obstacles and walls into the experience as well – the camera on the headset sees the code on the object and imports the graphical textures. So users can physically lean up against something which looks like a blank wall in real life, but in VR is part of a ship's bulkhead.
Map sharing between headsets, Visual Optometry mode, and LBE hybrid mode mean businesses can create a unique experience effortlessly and have minimal turnaround time between games. Even the battery on VIVE Focus 3 is designed to be swapped in seconds so LBE arcades can keep headsets in near-constant use, and with a 5K display and 90 Hz refresh rate, people can enjoy stunning visuals even in the middle of non-stop action.
VIVE - Enterprise-grade support and services designed to protect your investment
Keep your business running smoothly with VIVE Enterprise Business Warranty & Services. This is why all Vive Business edition packages includes a two-year limited commercial-use warranty, support, and services. And you can now upgrade to give yourself 3 years peace of mind.
Features like next business-day email response, expedited product repair, and dedicated phone and chat support minimize downtime.
Registration and activation required for use. Start by creating a VIVE Enterprise account.
Activation must be completed within 90 days of the hardware purchase.
A service request cannot be submitted until an enterprise account is created and registered.
See how VIVE Business can work for you - Unmatched VR hardware, software, and services.
Contact us to discuss how Primo IT & HTC can help